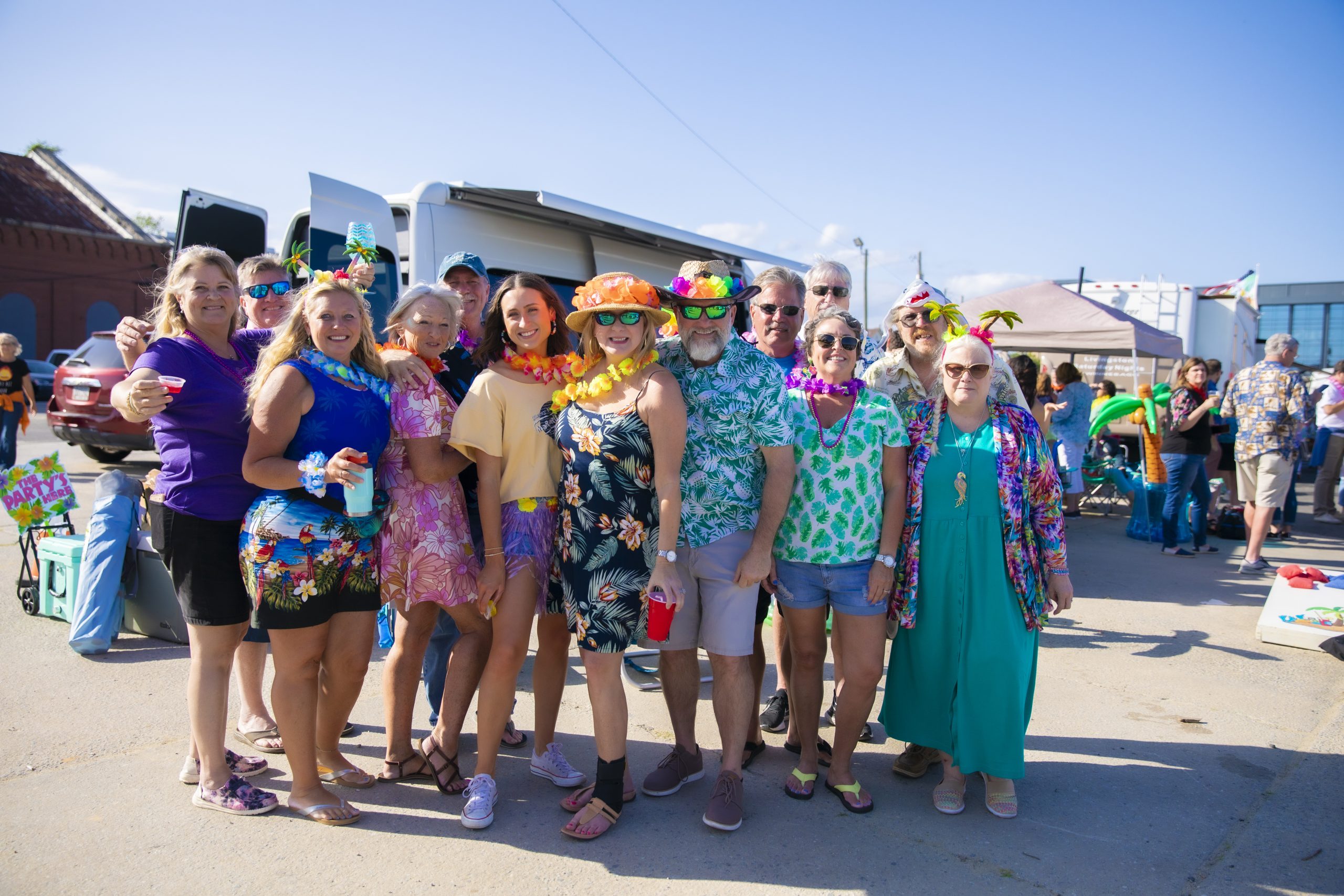 Tailgating at Enmarket Arena
Tailgating of any kind is NOT permitted in Chatham Parkway Subaru Lot (Lot A), Lot G, and Lot D.
ONE CAR = ONE SPACE: Please be considerate of your fellow guests. Tailgating out of a vehicle is prohibited.
ONE RV= TWO SPACES: Tailgating should be limited to the area directly to the right or front of each vehicle. Blocking drive lanes is prohibited. Enmarket Staff will enforce space policy.
Basic Tailgating Guidelines
We ask that guests always consume alcohol responsibly. Guests determined to be impaired in advance of entering the arena will not be allowed in.
The use of grills and other heating devices are not allowed in the Chatham Parking Subaru Garage (Lot A), Lot D, & Lot G.
Individuals and companies are prohibited from selling access to a tailgate party while on the premises to members of the public. Unauthorized commercial tailgating and marketing activities are strictly prohibited.
All parking is prepaid, and all parking is available on a first-come first-served basis determined by parking tier. (i.e., Premium, Reserved, General, etc.)
ALL VEHICLES MUST VACATE ALL PARKING LOTS IMMEDIATLEY FOLLOWING THE SHOW OR WILL BE SUBJECT TO TOW OR TICKET.
Please keep all tables, chairs, coolers, barbecues, etc. within the area near your vehicle and the parking stall for your party. Tents or canopies exceeding an 8' x 8' footprint and vehicles measuring more than 18' in length and/or 8' in width are not permitted to park in a lined parking space.
Saving parking spaces will not be permitted. Groups desiring to tailgate together should plan to meet in advance and arrive together.
Driving aisles and fire lanes need to be always kept clear for free access of emergency vehicles.
Trucks, trailers and other oversized vehicles (not including buses) will be directed to park in designated spots, so they do not take up additional parking spaces. Please arrive early to find a location or in another location in which your vehicle will not occupy more than allowed parking space.
Trucks, trailers, buses and other oversized vehicles are not permitted to park in the enclosed structured parking deck.
Any violation of law or tailgating policies may result in the towing of the vehicle at the owner's expense, loss of parking permit, and/or ejection.
Grills are permitted for tailgating enjoyment, provided guests do so at a safe distance from their vehicle. Use of grills near buildings or in areas where other guests or property may be damaged, is strictly prohibited. The disposal of hot coal in open parking spaces, under vehicles, or next to parked vehicles is prohibited as this may cause car fires.
FOR THOSE GUESTS WHO TAILGATE IT IS RECOMMENDED THAT A MINIMUM CLASS 2A-10B:C FIRE EXTINGUISHER BE AVAILABLE FOR USE IF NECESSARY.
Open fires are not permitted.
Deep fryers or any oil-based cooking or frying is prohibited.
Sound systems must not produce sound more than 85 decibels (City of Savannah Ordinance). Anyone using a sound system must face the system towards their vehicle and not in the direction of other guests to avoid causing a negative experience to others not included in the group.
Ticket holders should cross roadways at the designated crosswalks and should not walk on the active roadways that lead to and from the arena.
Trash & Hot Charcoal Disposal
Trash receptacles are located throughout Chatham Parkway Toyota Lot, D & G parking lots and near the entrances to the arena. Please bag and dispose of your trash to make it safer for vehicles exiting the after the event.
For your safety and convenience, hot coal bins have been provided for the disposal of charcoal. These large, "hot charcoal" bins are located on the paved areas inside the parking lots. Please do not discard hot coal near vehicles or in plastic waste receptacles. Doing so could result in car and trash fires.
PLEASE DO NOT DISCARD TRASH IN THE HOT COAL BINS OR HOT COAL ASHES IN THE TRASH CONTAINERS.
Portable Toilets
Portable toilets are located throughout Chatham Parkway Toyota Lot. Portable restrooms for disabled persons will be in front of the Arena.
Parking Lot Guidelines
Parking lot guidelines have been established to create a safe and enjoyable experience for all guests. All vehicles and bags that enter Enmarket Arena may be subject to a visual search.
1 VEHICLE = 1 SPACE: Roadways and additional spaces are to remain clear for fellow guests and emergency vehicles.
ALCOHOL GUIDELINES: All Georgia State and City of Savannah alcohol consumption and distribution laws will be strictly enforced by Enmarket Arena Security.
CHARTER BUSES: Charter bus parking will need to be arranged ahead of time with prepaid parking.
COOKING / USE OF GRILLS: We ask that all guests safely set up, operate and extinguish all cooking and grilling materials in designated lots. Please extinguish and dispose of all cooking and grilling materials. Hot coal is to be disposed of in hot coal containers which are located at the perimeter of parking lots. The use of grills is NOT PERMITTED on any level of the Arena parking deck.
RVs / LARGE VEHICLES: Will not be permitted to park in the Arena parking decks. All RVs must have a prepaid parking pass and will be permitted to park in Chatham Parkway Toyota Lot.
TICKET RESALE: Ticket reselling is not authorized on Enmarket Arena property. Be aware that tickets purchased from sources other than Ticketmaster may be counterfeit and may not be accepted. This includes the reselling of parking permits on the roadways leading into Enmarket Arena.
VENDING / SOLICITATION: Unauthorized soliciting or the collection of contributions, vending, distribution of flyers, or other materials is not permitted.
WASTE: Please dispose of all waste materials in the proper trash, recycling, and hot coal containers.
Violating parking lot guidelines may result in ejection from Enmarket Arena property, arrest and the revocation of tickets and parking passes.
Catering Rules & Regulations
Outside catering companies are not permitted on Enmarket Arena property.
Oak View Group 360 Hospitality is the official food service provider/caterer for Enmarket Arena.
Illegal sales and organized distribution of food and beverages on Enmarket Arena property is prohibited. Individuals participating in such activities are subject to loss of parking privileges, arrest and possible fines.
Prohibited Items
Drones, model aircraft, kites, any other remote controlled or tethered flying objects are not permitted.
Bicycles
Skateboards
Nitro Balloons
Rollerblading
Motorized scooters
Go-karts
Minibikes
Weapons of any kind
Fireworks
Drones, model aircraft, kites, any other remote controlled or tethered flying objects 
Solicitation of any kind
Selling access to a tailgate party to members of the public either in advance of or on the day of an event.
Selling of products or merchandise. Only Oak View Group 360 Hospitality staff is authorized to sell products or merchandise in the parking lots on event days.
Banners or signage recognizing businesses or products may not be displayed.
The placing of flyers/brochures on vehicles
Ball playing in the parking lots and roadways. This is a safety hazard; many injuries occur because of these activities.
Shuttles for Ticket Holders
Shuttles will be provided from Savannah Civic Center at Barnard and Liberty. All shuttles are free and are returned to the Savannah Civic Center. Shuttles will begin at 4pm and will run until all patrons have been transferred back, or an hour after the show has ended.