Hostilo hoops community classic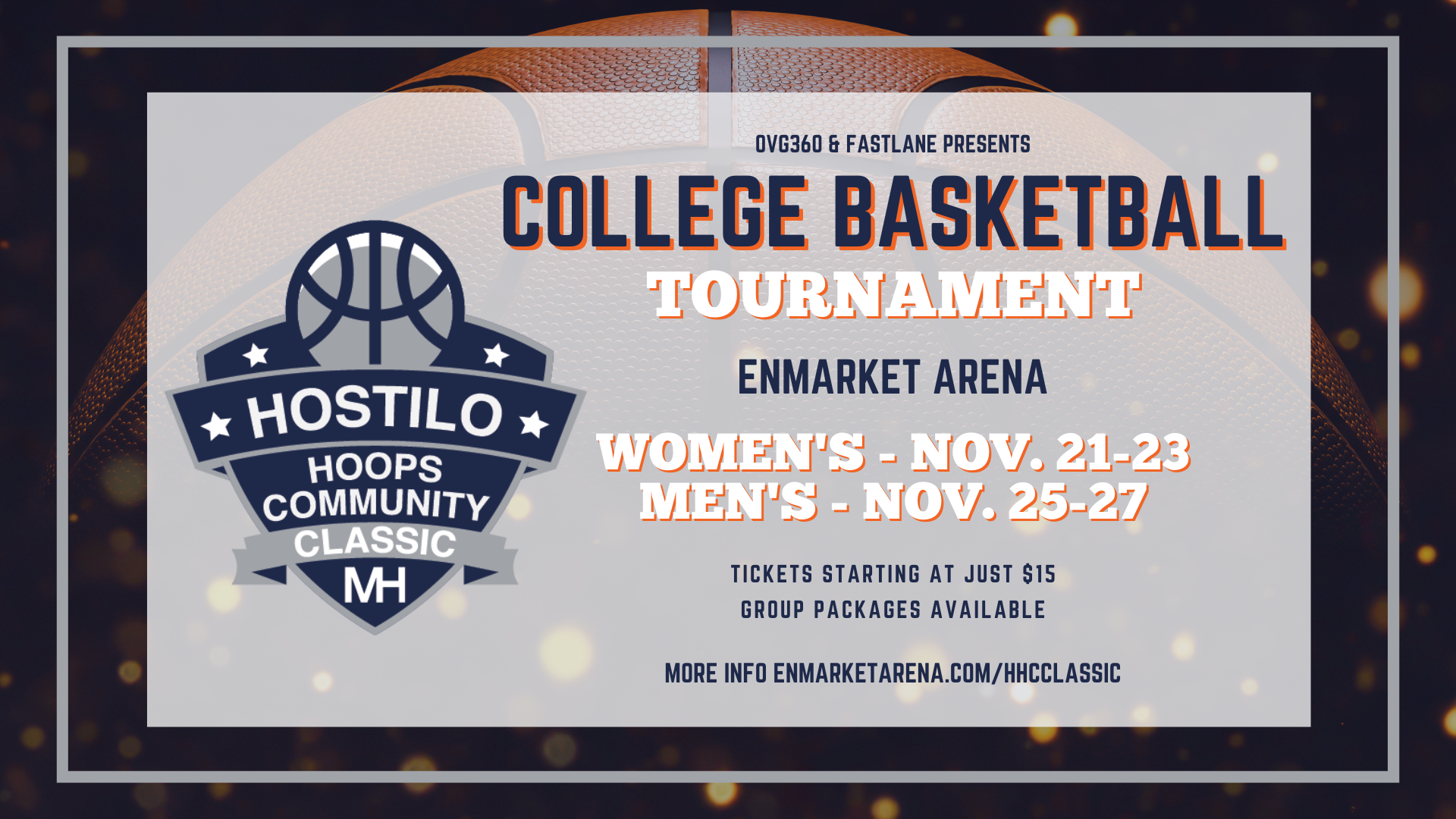 Women's Schedule
Monday, November 21
11:30 AM Fairleigh Dickinson VS Illinois Chicago
2:00 PM Austin Peay VS Davidson
4:30 PM Norfolk State VS Purdue Ft. Wayne
7:00 PM UT Martin VS Marshall
Tuesday, November 22
11:30 AM Austin Peay VS Fairleigh Dickinson
2:00 PM Davidson VS Illinois Chicago
4:30 PM Marshall VS Purdue Ft. Wayne
7:00 PM Norfolk State VS UT Martin
Wednesday, November 23
11:30 AM Fairleigh Dickinson VS Davidson
2:00 PM Illinois Chicago VS Austin Peay
4:30 PM Purdue Ft. Wayne VS UT Martin
7:00 PM Marshall VS Norfolk State
Men's Schedule
Friday, November 25
11:00 AM James Madison VS Valparaiso
1:30 PM South Dakota State VS Towson                                                      4:00 PM South Alabama VS Evansville                                                    6:30 PM Mercer VS Robert Morris
Saturday, November 26
11:00 AM TBA VS James Madison
1:30 PM Valparaiso VS South Dakota State                                                4:00 PM Towson VS South Alabama                                                            6:30 PM Mercer VS Fairfield                                                                        9:00 PM Evansville VS Robert Morris
Sunday, November 27 
11:00 AM James Madison VS South Dakota State
1:30 PM South Alabama VS Robert Morris                                                  4:00 PM Fairfield VS Evansville                                                                  6:30 PM Mercer VS Towson
Can I bring a large group?
Yes! Any group consisting of 9+ guests will qualify for a group discount. To order your group tickets, contact Sami Exler at sexler@enmarketarena.com.
Do you need National Anthem Singers or Half-Time performers?
Yes! We will need National Anthem Singers for each day of the tournament. Please fill out the application below!
How do I buy a ticket?
All tickets are available via Ticketmaster.com or by purchasing via the Enmarket Arena Ticket Office.
What does my ticket get me?
All game tickets will serve as single day tickets. This means you only need one ticket per day to see every game. However, we do not allow re-entry into the venue.
What schools are competing?
Women's Tournament will be Norfolk State University, Marshall University, Purdue Ft. Wayne University, University of Tennessee at Martin, Fairleigh Dickinson University, Austin Peay State University, University of Illinois Chicago, and Davidson College
Men's tournament will be James Madison University, Valparaiso University, South Dakota State, Towson University, South Alabama University, University of Evansville, Mercer College, and Robert Morris University
Hostilo Hoops Community Classic Performer Application
We are currently looking for groups, or performers, that are interested in becoming a National Anthem singer, or half-time performer for the 2022 Hostilo Hoops Community Classic.